What's new in GeoData Manager
This version of GeoData Manager , Database version 40
Well Events Summary - a new table to list all events for each well, for example drilling or redrilling the well, a PT run, a well intervention read more.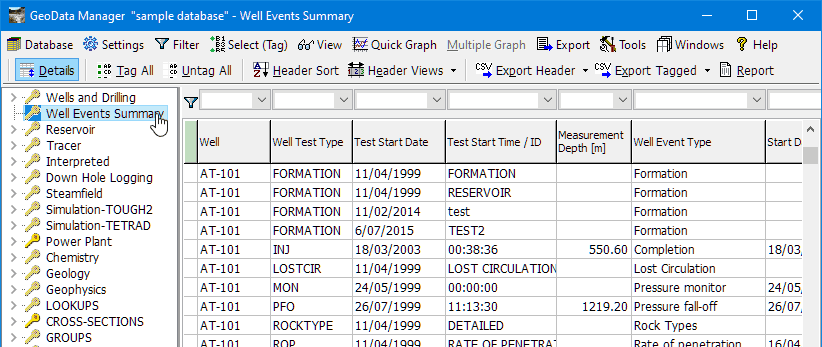 Joint spinner, pressure and temperature runs - You can now enter spinner measurements that were made as part of a joint pressure, temperature and spinner run. You can associate the pressure/temperature measurements with the spinner measurements. To expedite this, you can now enter spinner data in the Reservoir module (as well as in Downhole Logging). See here.
Unique Well Identifier - a new data field in Well data. To distinguish between well redrills for 3D modelling read more.
Well Interventions - a new data type in Well and Drilling module, for example for a clean, a workover or a redrill.
Capillary Tubing Events - a new data type in Reservoir module read more.
Version 4.15.5.18, Database version 39, 18 May 2020
Ternary Graphs: For chemistry measurements. GeoData Manager has three built-in ternary graphs Na-Mg-K (Giggenbach), Cl-HCO3-SO4 and N2-Ar-He plus you can enter ternary graphs with your own constituents (called general ternary graphs) read more.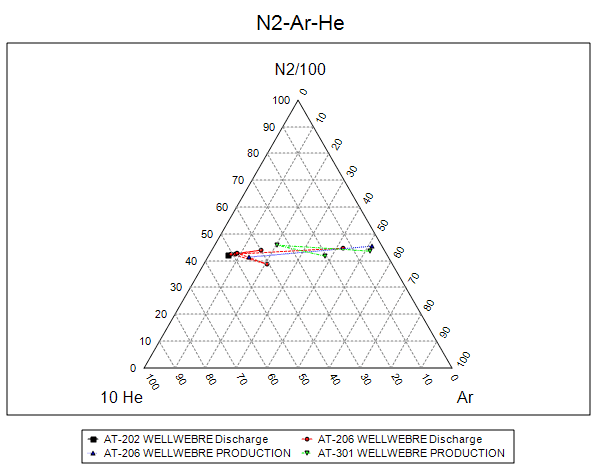 Ternary graphs:
can use mass or molar units
have independent ternary schema settings from line graphs
can be saved and reloaded later: GeoData Manager saves each graph's constituents and settings
titles and labels positions can be adjusted by the user
can be scrolled in vertical direction
Header and detail table widths: Right-click in a table and select Set all column widths to set optimum column widths automatically.
Version 4.14.9.27, Database version 39, 27 September 2019
Append data You can now append data to the end of an existing data set. This is faster than using Edit if the data set has a lot of data: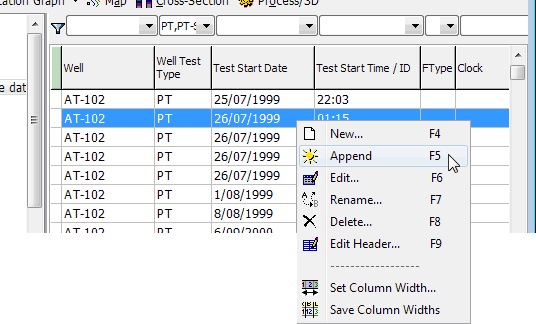 Graph settings An undocked multiple graph now has a Settings button.
Version 4.14.4.26, Database version 38, 26 April 2019
Create SQL Server databases You can now create and set up SQL Server databases from within GeoData Manager read more.
Copy database permissions You can now copy permissions from one SQL Server to other SQL server databases read more.
Well history You can now create a history file for one or more wells see here: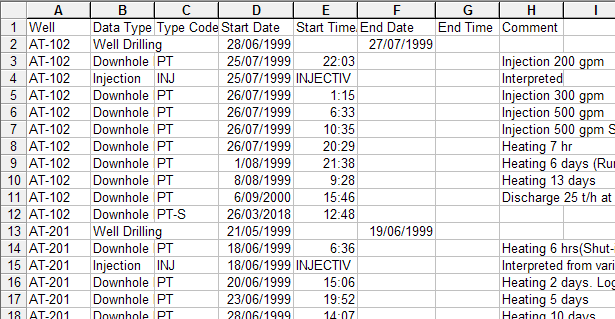 Checkboxes Added checkboxes to all list select forms to assist selection, for example:
Version 4.13.12.21, Database version 37, 21 December 2018
Fixed errors
We have been working to make GeoData Manager more stable internally.
Fixed the occasional but annoying loss of the preferences.ini file.
Fixed the occasional appearance of a ghost database in the Database Manager.
The Tracer Type in the Tracer module is now either CHEM or RAD.
Python scripts are now correctly loaded after scripts path changed in Miscellaneous Settings.
Fixed the incorrect message about WELLDATES not found after updating to DB 37.
Chemistry Sample Sets can now be deleted when all samples have been deleted.
In Edit mode:

Pressing Cancel after New now allows saving of any entered data.
The first key-press in the detail table is now captured.
Entered data is now posted when moving between Graph and Identifiers tab.
Short-duration information messages are now displayed on Check and Apply.
Version 4.13.9.21, Database version 37, 21 September 2018
Two new options for quick graph and multiple graph settings:
Synchronise dependent axes
If a graph has two dependent axes, then the axis grids can be confusing, see below left. If you tick Synchronise dependent axes then the top/right dependent axis uses the same axis grids as the bottom/left dependent axis. The axis grids are simpler. GeoData Manager changes the top/right axis numbers to suit the new grid.
Show right/top axis
If the main dependent axis is at the bottom or on the left of a graph. If this axis has distance down a well (depth, vertical depth or elevation) then you can choose to display a second dependent axis (depth, vertical depth or elevation). And in a multiple graph with more than one well, you can choose which well that GeoData Manager will use to calculate the values for the second axis.
In this example, the main dependent axis is elevation, the second dependent axis is depth and the second axis shows the depths for well AT-102:
Version 4.13.6.8, Database version 36, 8 June 2018
This release consolidates the major changes of the last release:
Version: 4.13.4.17, Database version 35, 17 April 2018
New menu layout
The main menu bar and toolbar have been extensively reorganised to make GeoData Manager simpler, faster and easier to use read about the menus:


Undock and dock windows
The map view, detail table and quick graph tabs can be undocked from the main window to be independent windows read more: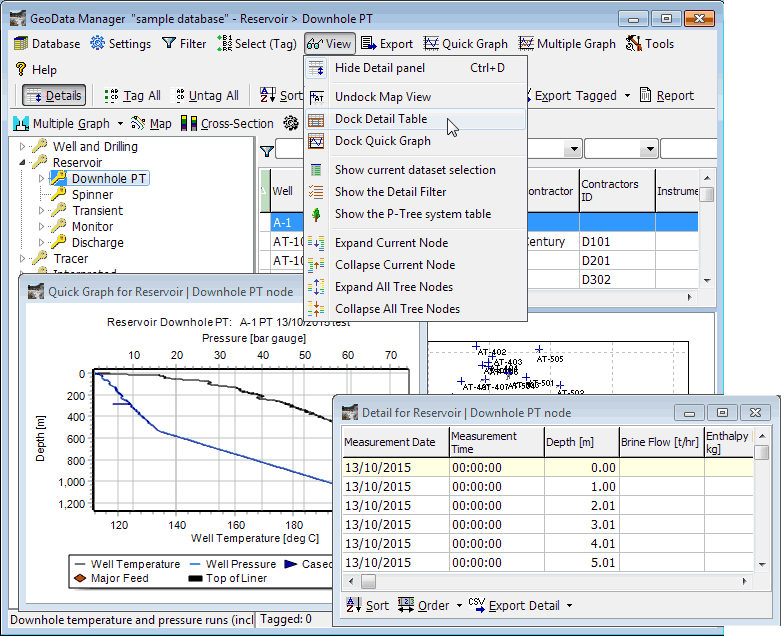 New functions
Filtering is now more flexible.

New tools to upload and download company settings.

It is now easier to create a new Access database see here.

Access databases can now have user permissions read more.

Import: added options to handle unexpected thousands and decimal separators see here.
New data types
Surface Geology (Geology)
Surface Heat flow (Geophysics).
Version: 4.12.4.21, Database version 34, 21 April 2017
Version: 4.12.2.28, Database version 34, 28 Feb 2017
Option to hide duplicate legends in a multiple graph - this can make the legend simpler and easier to read read more.

You can now enter a date and time into a date field, and during import, you can import date and time in the Measurement Date field read more. Or, as previously, you can enter or import just a date into the date field and a time in the associated time field

When you go to enter new Reference date, it is automatically filled with the earliest site date.

In map view, well traces are now displayed for sample sites that are also wells.

When you zoom a graph, you can now zoom in all directions, zoom the dependent axis or zoom the independent axis see here.

Added help guide tutorial on using multiple graph time calcs for displaying time graphs see here.
Fixes
You can now export well traces for sample sites that are also wells.
You can now type Spanish accented letters in preferred names.
Soft lookup fields (eg Reference ID) now allow new values when you add new data.
Multiple geological column graphs now work correctly.
Global well selection now selects sample sites that are also wells (at fluid chemistry and rock property nodes) see here.
---
Version: 4.11.10.7, Database version 34, 7 Oct 2016
Export: Auto option for delimiting fields, to better manage data with double quotes, commas and carriage return / line feeds. Field delimiting options now include memo, header, other non-numeric and numeric. Read more.

Lookups: Use Rename to merge two different lookup names to the same name read more. Use with caution.
---
Version: 4.11.8.5, Database version 34, 5 Aug 2016
New tools
New Features
Column titles now have 3 lines (in home window header pane and in multiedit):

All tables in home, edit and multiple graph can be sorted temporarily by clicking the column title:

Click once to sort ascending - title font changes to bold.
Click again to sort descending - title font changes to italic.
Click again to revert to user-defined sort order, or default if this is undefined.

New preferences:

Automatically save new entries to soft lookup fields (for example, if you enter a new contractor name).

Turn off or on temporary sorting when you click the title bar (see above).

Prompt for you to enter a comment when saving a new entry.

Automatically save column width and column order after you change these on the screen and navigate to a new node.

These fields are changed to soft lookups, so you can enter new data not on the list: Reference ID, Geology data ID, MT data source, MT resistivity ID, MT model ID.
---
Version: 4.11.5.6, Database version 33, 6 May 2016
Simple geology cross-sections
Simply tag some wells and click Multiple Graph to see a quick cross section read more. For example: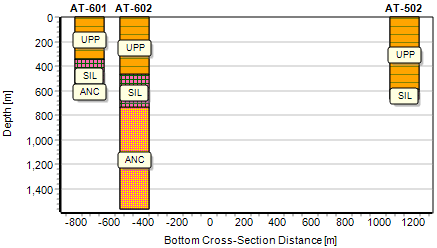 Global well selection
If you tick this preference, then if you select wells in the filter bar at one node, then these are selected in the filter bar at all nodes with well data:
Other new features
Reservoir Discharge: can set No flow calculation as the default
Steamfield Production: can set No flow calculation as the default
The options for the primary coordinates are changed from Units or Degrees to Projected or Geographic see here.
Fixes
Node Select error which caused program lockup when last node or sub-node is deselected.
Location conversion error from lat/lon to metric for multiple data entry.
Primary coordinate selection error (toggle when coordinates reselected)
MT rho error unit type converted from ratio to resistivity.
MT phase error unit type converted from ratio to angle.
MT rho error values converted from log (ohm m) to ohm m.
---
Version: 4.11.4.2, Database version 33, 2 Apr 2016
Fixes
Version Number save error for Windows non-English regional settings has been fixed.
---
Version: 4.10.12.15, Database version 33, 15 Dec 2015
Users can load company-specified preferences:

for screen and graph format
measurement units and preferred names
default graph schema settings

Users can show and hide menu tree nodes read how:

Python scripts are now available in the settings folder and can be linked read more.
---
GeoData Manager Version 4.10.8.27, Database version 33, 27 Aug 2015
New features
Fixes
Restored unit change on graph axes using right-click.
---
GeoData Manager Version 4.10.7.31, Database version 33, 31 Jul 2015
Add many import command
A new command to import many data sets at one time, called Add Many. This is available for importing vertical wells, chemistry sample sites, geology rock sample sites and geophysics MT soundings read more.
BROACH option
A BROACH option has been added to Godevil data sets (clear well depth determination) read more.
Other new features
For SHUT-IN downhole PT profiles, GeoData Manager automatically enters zero mass flow data.

If you enter a positive spinner mass flow, GeoData Manager asks if you want to change the sign to negative in case it is injection read more.

During Import, when you are assigning field names to the columns, you must click NON-VISIBLE COLUMNS to choose fields that are not currently visible in the header window. If you select one of these fields, GeoData Manager reminds you that the field is not visible read more.

When entering reservoir data, GeoData Manager can automatically fill in some fields in the detail table read more.

The Graph Settings window can now call Graph Schema directly.

Export Header now exports tagged records, not the currently displayed records.
Database changes
MT Sounding field increased to 16 characters to allow for complex sounding names.
Casing Header Table now has Notes and SourceDataFile fields.
Fixes
Filter tab columns now synchronised with header columns.

Header Order change corrected and optimised for speed.

Header key fields hidden in detail table if visibility reverts to default settings.

Filter group options in Filter button dropdown list now shown after saving tagged group.

Available MT resistivity soundings shown in alphabetical order, not data entry order.

MT soundings Latitude and Longitude now calculated on Save.

Slow data deletion speed during editing if quick graph displayed has been fixed.

Export Tagged now recognises main screen unit changes.

Error message now posted if sort field not available in table.

Error message now posted if specified Python script folder not available.
Database version change
Database version increased from 32 to 33.
---
GeoData Manager Version 4.10.3.31, Database version 32, 31 Mar 2015
Option to convert positive mass flows to negative values in injection tests.

Automatic filling of mass flow values if only recorded when changed.

Fixed rename error where correct identifiers are displayed.
---
GeoData Manager Version 4.10.3.12, Database version 32, 12 Mar 2015
Set Required Fields option in Tools allows customisation of required fields on New.

Fixed error when creating new Access databases.
Database version change
Database version increased from 31 to 32.
---
GeoData Manager Version 4.9.10.30, Database version 31, 30 Oct 2014
Fixed error in Simulation TOUGH2 Production History Module
---
GeoData Manager Version 4.9.9.10, Database version 31, 10 Sep 2014
Side-by-side graphs
Multiple Graph can now display side-by-side graphs of data that share a common axis, usually depth. For example:
A geology and line graph side-by-side read more.
Other new features
Zoom all directions (all axes) or zoom independent axis only read more.

Draggable axes in Quick Graph and Multiple Graph read more.

Set axis increment = 0 to get good axis labels for normal graph and zoomed graph read more.

Logarithmic axis labels improved; adjust axis labels by setting Increment read more.

In a database, a copy of the spinner node is now in Reservoir.
Fixes
Minor fixes and improvements.
---
GeoData Manager Version 4.9.5.15, Database version 31, 15 May 2014
Detection limits
The chemistry module lets you enter detection limits (e.g. <1 ppm) read more.
Column graphs
Graphs of well lithology, formation and alteration columns read more.
Casing shoe, major feed and top of liner displayed in an edit graph
Other new features
Graph schema updated as data is entered or modified.

Read-only fields are now just that - unable to be modified.

New PT-S test type available for PT surveys run with a spinner.

New SPIN-PT test type for spinner surveys run with PT measurements.

Test tyoe automatically upgraded for PT and SPIN data sets with corresponding identifiers.

New Calculated Well Pressure field in WELPRES for monitor pressure adjustments.

On graphs, the dependent axis title is changed to field name if only one field plotted.

Database: At installation, the sample database (atlantis.mdb) is automatically replaced by a new sample database, of the latest version. Any existing sample database is saved as atlantis_Vnn_yyymmdd.
Fixes
Numeric lookups now work correctly.

Header information is refreshed if lookups changed.

Graph schema ordering corrected for disabled and null field cases.

Upgrades now use version number to implement system changes.

Data changes in Python scripts correctly registered in edited data.
Database version change
Database version increased from 30 to 31.
---
GeoData Manager Version 4.8.5.8, Database version 30, 8-May-2013
Multiple graphs
Graph options change at different nodes, reflecting the underlying data type.
Top and Bottom values are now calculated for Top/Bottom graph types.
Graph toolbar icon indicates the currently-selected graph type.
Time Calcs wording has been changed from Datum to Zero Point.
Deviation/Location graphs are available for planned wells.
Synchronization of graph settings is improved across multiple windows.
Apply option now transfers settings made in a different window.
Database Structure
Core Register added to the Geology module.
XY Caliper and Cement Bond logs added to the Downhole Logging module.
Casing Size field increased to allow longer casing strings.
Standard and Non-Standard Casing Sizes to provide diameter flexibility.
Downhole Logging Equipment field now functions as a lookup.
Top of Liner field added to the WELL table.
New Functionality
Lithology Process option to search and list available cores with specified rock types.
Ctrl-Click overwrites previous selection, when selecting data from filter bar picklist.
Detail Filter option to tag all records that remain with detail data after filter application.
Top of Liner can be displayed on Quick Graph and Multiple graphs.
Preference option to auto-open new windows at the current node.
Preference option to separately specify filter and current record settings on program close.
Multi-lookup fields allowing multiple values available in Core Register module.
Option (user-beware) to empty IDLIST table if not empty after previous unorthodox exit.
Data Entry
Lookup values auto-filled on key press now exclude the trailing Comment.
Separate Error and Information panes in Data Entry and Edit Header windows.
Improved Accurate Cell Edit behavior in Data Entry window.
Reinjection FType options now restricted to N or 1.
Flow sign checked for injection tests.
Auto-display of Weir Water Pressure or Height in weirbox discharge tests.
Mapping Scale Factor defaults to 0.9996 when UTM is checked.
Layout and Behavior
Graph Menu separated into Quick Graph and Multiple Graph options.
Lip pressure nodes rationalized into weir, estimated enthalpy and dry steam cases.
Child Instances has been moved to Windows menu.
Map options have been modified to refer to csv files, not ASCII files.
Node change speed between related nodes improved by restricting field data loads.
Export Header speed improved by suppressing scroll calls.
Reservoir data edit and save speeds improved by minimizing database queries.
Filter groups can now be saved at the Geology node.
Export Default File Type saved to preferences only if global file type not selected.
Fixes
Disabled series now hidden if "Include disabled series in schema cycling" is checked.
Weir (Brine Only) calculation error with undefined Separation Pressure is corrected.
Data Entry window modified to prevent obscuring one panel with another.
Casing Size Rename procedure modified to preserve leading space.
Log History Delete now records the correct data record.
Hyphens removed from user names to prevent table creation errors in some cases.
Data integrity date checks corrected.
Filter Groups can now be deleted.
Tagged and filter group conflict caused by the same name is now prevented.
Corrected cumulative mass calculations when discharge period < calculation interval.
Feedzone special procedures modified to recognize 5 Estimated Permeability levels.
A number of superfluous menu options removed from the main menu.
Unused Data Transfer option removed from Menu Tree.
Database version change
Database version increased from 29 to 30.
---
GeoData Manager Version 4.7.9.30, Database version 29, Released 30-Sep-2012
Added Column Empty function in Data Entry window.
Fixes
Fixed errors in dual weirbox calculations.
Fixed errors associated with import and export of volume flow data (gpm).
Fixed multiple graph legend display errors when first data set has empty columns.
Fixed second worksheet multiple graphing errors at Discharge node.